November 30, 2022 | 6:00PM - November 30, 2022 | 9:00PM
Sandman Signature Hotel - Edmonton
10235 101 Street
Edmonton AB T5J 3E9
Canada
We can't wait to get together finally at CAM's 2022 conference in Edmonton on November 13-15th at the Sandman Signature Hotel.
Image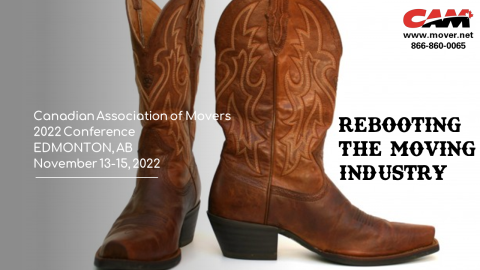 It will be 3 long years since we last gathered together at Blue Mountain, and we can't wait to see everyone again!  What a great opportunity to mingle and meet new folks or catch up with those you haven't seen in years.  With the assistance of Edmonton Tourism, activities will be planned for Saturday night (for those of you coming in early), our Sunday welcome night, Monday's NFP night, and of course Tuesday night's celebratory banquet.
We'd like to thank our sponsors who have generously continued to support us through these crazy times.
Image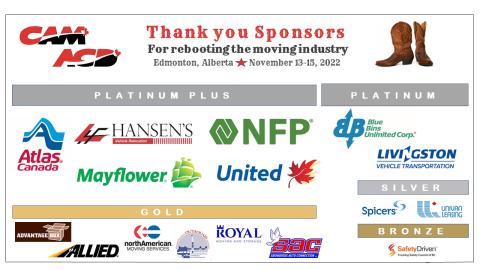 When:
Sunday, November 13-Tuesday, 15, 2022
We'll be planning something for Saturday night if you are flying in early.
Where:
Sandman Signature Hotel Edmonton (formerly Sutton Place Hotel)
10235 101 Street, Edmonton, AB T5J 3E9
Registration:
Watch for news about registration in April 2022!
Topics:
Join us as we reboot our industry for post-pandemic long-term success:
What's Going On? A morning with Steve Weitekamp, President of the California Moving & Storage Association. We'll be chatting about trends, challenges, as well as legislation in the U.S. that may make its way North.  Steve will pepper the discussion with stories and anecdotes of his long career in the industry in Hollywood.

Toronto lawyer Rocco Scocco - Defending victims of moving fraud (and a whole lot more)

Service Alberta and BBB's Mary O'Sullivan-Andersen - Consumer complaints and consumer relations - what we can do as an industry, especially now that consumer expectations are immediate and perfect.  COVID has changed things, but have we?  Are we still doing things the old way or have we ramped up our response to consumers?  Are we caring enough?

Todd Hirsch of ATB Financial (Alberta Treasury Branch) - Our economic outlook - what now?  After a couple of wild years, what's needed to recover both nationally and within our own business?

Jason Ding, Deloitte - Selling, buying, or diversifying your company - making tough choices -    COVID has certainly changed how we all approach business and many of us had to make some tough choices in order to make it through these past few years.  The future is here - are you reevaluating?  

Angela Splinter, CEO, Trucking HR Canada - The labour crisis - how are we to survive?
Exhibitors:
Watch for news about the 2022 trade show.  Registration will open in March.
Sponsorship:
Sponsorship of our conference is a great way to promote your company, its products, or services. Thanks to all who have already stepped up with their support.  Here's our 2022 Sponsorship Package for your information: