November 30, 2022 | 6:00PM - November 30, 2022 | 10:00PM
Sandman Signature Hotel - Edmonton
10235 101 Street
Edmonton AB T5J 3E9
Canada
We can't wait to get together finally at CAM's 2022 conference in Edmonton on November 13-15th at the Sandman Signature Hotel.
Image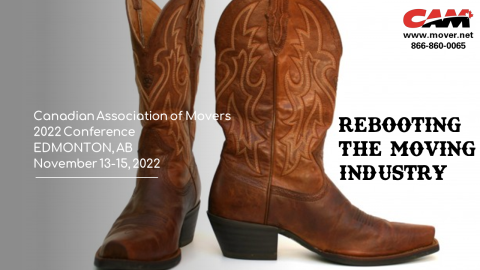 It will be 3 long years since we last gathered together at Blue Mountain, and we can't wait to see everyone again!  What a great opportunity to mingle and meet new folks or catch up with those you haven't seen in years.  With the assistance of Edmonton Tourism, activities will be planned for Saturday night (for those of you coming in early), our Sunday welcome night, Monday's NFP night, and of course Tuesday night's celebratory banquet.
Want a quick takeaway on the event? Here's a one-page flyer to share around the office.
We'd like to thank our partners who have generously continued to support us through these crazy times.
Image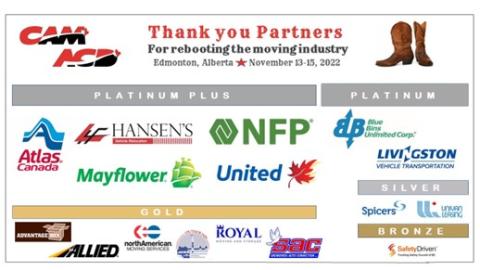 When:
Sunday, November 13 - Tuesday, November 15, 2022
General Schedule:
Sunday 
1:30 pm   CAM Board Meeting (closed meeting)
4:00 pm   Registration opens
6:00 pm   Welcome reception - a great opportunity to bring your local employees and coworkers to meet folks and check out the trade show!
Monday
7:30 am - 4:00 pm   Conference and Trade Show
5:00 pm - 7:00 pm   NFP's cinq à sept 
7:00 pm onwards     Free night
Tuesday
7:30 am - 3:00 pm   Conference and Trade Show
6:00 pm - 7:00 pm   Chairman's Reception
7:00 pm - 9:30 pm   CAM Awards Banquet
9:30 pm - 10:30 pm  "Whose Box is this Anyway? - Live & Improv" - an evening of "moving" comedy with Edmonton's own Rapid Fire Theatre improv group, presented by Atlas Canada
*note - for those of you coming in early, we will be planning an optional activity or two for Saturday afternoon/night
Where:
Sandman Signature Hotel Edmonton (formerly Sutton Place Hotel)
10235 101 Street, Edmonton, AB T5J 3E9
Hotel Registration is now open. For our priority room rate of $169/night (plus taxes), visit this link 2022 CAM Annual Conference.  Book by Monday, Oct 31, 2022 to receive this exclusive rate.
Registration:
Watch for news about registration in late July 2022.  We have a new registration system we are just working the bugs out of.  We aren't computer geeks, so it's taking awhile!
Health and Safety protocols that are consistent with prevailing COVID response and prevention standards will be in place. The following protocols may change as we near the event.
Topics:
Join us as we reboot our industry for post-pandemic long-term success:
What's Going On? A morning with Steve Weitekamp, President of the California Moving & Storage Association. We'll be chatting about trends, challenges, as well as legislation in the U.S. that may make its way North.  Steve will pepper the discussion with stories and anecdotes of his long career in the industry in Hollywood.

Toronto lawyer Rocco Scocco - The Surge in Moving Fraud in Canada and How It's Being Combatted - COVID affected the moving industry in many ways - labour shortages, an immediate need to go virtual, increased costs, and shortages of supplies and equipment.  But COVID also increased moving scams to an unprecedented level as fraudsters took advantage of the industry's inability to deal with the surge in demand for relocation services and storage.  Join Rocco as he conveys his unexpected involvement these past two years fighting moving fraud and where we are now with police and court action.

Faisal Karmali, host of the Karmali Exchange Podcast & YouTube Show - Our economic outlook - what now?  After a couple of wild years, what's needed to recover both nationally and within our own business?

Deloitte - Selling, buying, or diversifying your company - making tough choices -    COVID has certainly changed how we all approach business, and many of us had to make some tough choices in order to make it through these past few years.  The future is here - are you reevaluating?  

Angela Splinter, CEO, Trucking HR Canada - The labour crisis - how are we to survive?  An ongoing problem long before COVID, Angela will help us understand the future of transportation labour and some of the programs that are available from Trucking HR Canada to help you with a driver and staffing shortage.
Exhibitors:
Trade show registration is now open! Get in front of the leaders in the Canadian moving community. Support your client's industry!
Exhibitor registration is now open for CAM's 25th conference at the Sandman Signature Downtown Edmonton Hotel. Be a part of a great trade show with expanded hours and opportunities. We know you are excited to actually SEE folks again in person. And in this world of rising costs, you'll be pleased to know that there's been no registration fee increase!
The booth package is $1200 CAD (plus tax) which includes booth space (draped table and 2 chairs), one full conference registration (including all conference receptions and meals, plus banquet and show ticket) and one $50 gift card for the "Exhibitor Extravaganza".
Sponsorship:
Partnering with CAM for the conference is a great way to promote your company, its products, or services. Thanks to all who have already stepped up with their support.  Here's our 2022 Partnership Package for your information: