We offer valuable information for movers and consumers, including important news from the government. Check back frequently for breaking news.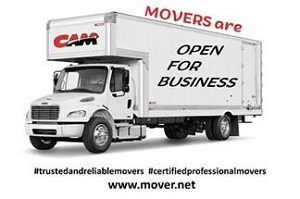 The Canadian Association Movers (CAM) and its 400 members, are committed to everyone's health and safety during this extraordinary time. CAM has been in regular contact with its members since the end of January with updates and allaying concerns about conducting business. Moving and warehouse storage are considered essential services. All of our members are open for business; however, due to restrictions and capacity issues, may not be running at full staff complement. We encourage customers to book your mover early! To find a certified, professional mover near you, visit CAM's home page to access our mover search function.
As Canada begins to open up and each area has it's own policy, we recommend that you check with your local health authority for current restrictions.
Updates remain on this page for about a week. Please refer to one of the sections above for recent updates. Thanks to our members who are sending us real-time updates to help keep everyone informed!
*update* US-Canada border to remain closed until at least September 21, 2020
August 14, 2020 - As expected, Prime Minister Trudeau has confirmed that the US-Canada border will remain closed to non-essential travel until at least September 21, 2020.
*new* Info on CERB to EI transition
Many Canadians need help making the transition from CERB to unemployment insurance. The federal government announced this week that it has set a minimum unemployment rate for EI so that more Canadians can access it. For more details click here.
*new* If you can't buy 'em, we'll tell you how to make 'em
August 5, 2020 - On August 3rd, Clorox announced that the brand's popular sanitizing wipes won't be fully available on retail shelves until early 2021. The inability to find wipes has been one of the most common complaints from drivers striving to keep their environment as clean and safe as possible since the COVID-19 outbreak. They cannot find adequate supplies of disposable sanitizing wipes. Here's an article on how to make your own. Read more.
*new* Download COVID Alert today!
August 1, 2020 - Protect yourself. Protect others. Get notified and help limit the spread. The government of Canada has developed a new nation-wide mobile app to let users know if they may have been exposed to COVID-19. Available free to all Canadians as a voluntary download, COVID Alert will notify you if someone you were near for at least 15 minutes and less than 2 metres apart in the last 14 days tested positive for COVID-19. To learn more about the app, click here.
*new* CRA is extending tax payment due date
July 27, 2020 - The CRA is extending the payment due date for current year individual, corporate, and trust income tax returns, including instalment payments, from September 1, 2020, to September 30, 2020. Penalties and interest will not be charged if payments are made by the extended deadline of September 30, 2020. This includes the late-filing penalty as long as the return is filed by September 30, 2020. Read more.
*update* CEWS to be extended & major change!
July 17, 2020 - Finance Minister announced today that the CEWS (Canadian Emergency Wage Subsidy) Program will be extended until December 19, 2020 and that there are some additional changes to include expansion of the program. Click here for more details.
*update* CBSA Collecting Personal Information from Truckers
June 30, 2020 - Canada Border Services Agency (CBSA) has begun collecting personal information from truck drivers at several border crossings on behalf of the Public Health Agency of Canada (PHAC) Read more here.
Update July 9, 2020 - CBSA has expanded the program at 12 additional ports of entry, bringing the total to 18 locations overall. Read more here.
Ports that have been collecting the data since June 30 include: St. Stephen 3rd Bridge; St-Armand/Philipsburg; Lansdowne; Queenston-Lewiston Bridge; Coutts; and Pacific Highway.
Added to the list today are crossings at Woodstock Road; St. Stephen; Stanstead; St-Bernard-de-Lacolle; Sault Ste. Marie; Prescott; Windsor-Detroit tunnel; Peace Bridge; North Portal; Emerson; Abbotsford-Huntingdon; and Aldergrove.
Mandatory Mask Directives - Sample Instructions
July 7, 2020 - Masks are now mandatory in indoor spaces in several areas across the country. Here is the directive from Ottawa Public Health on what is required by building operators to be done to facilitate their recommendation that masks be worn in any indoor space. Read here. For specific community mask orders, please check the provincial re-opening update links below.
CERC: Administration clarifies that Canadians are exempt from Executive Order suspending U.S. Entry for certain nonimmigrants
CERC explains that Canadian citizens are exempt from this order. Read more. (June 26, 2020)
Government of Canada: Organizations buying and selling personal protective equipment during COVID-19
The Government of Canada has created a supply hub for resources and information to help organizations sell and buy personal protective equipment (PPE) during the COVID-19 pandemic. They're mobilizing industry to provide medical supplies, and providing information on personal protective equipment in relation to COVID-19, including expedited access and how to get authorization to sell PPE. Their information will be updated regularly. (June 9, 2020)
++++++++++++++++++++++++++++++++++++++++++++++++++++++++++++++++++++++++++
Stay informed, stay connected:
For the latest and most up-to-date information on the novel coronavirus, visit the Government of Canada's webpage at www.canada.ca/coronavirus or call the coronavirus information line at 1-833-784-4397.
Provincial and Territorial Reopening Updates and Travel Advisories
Canada
Travel Restrictions, Exemptions & Advice
Alberta
British Columbia
Manitoba
New Brunswick
Newfoundland & Labrador
Northwest Territories
Nova Scotia
Nunavut
Ontario
Prince Edward Island
Québec
Re-opening Update (en français)
Travel Restrictions (en français)
Saskatchewan
Yukon
Frequently Asked Questions & General Advice
CAM and the moving industry are equally concerned about the spread of the coronavirus during any step of the move process, particularly as we are now in the busy season and areas throughout the country are beginning to open up at various degrees of restriction. We have to protect our customers, our crews and coworkers, and be especially mindful of the vulnerable sector or our community – the elderly and those with health deficiencies that make them more susceptible to viruses.
CAM continues to closely monitor COVID-19 and the response from all health agencies, as well as the Canadian government, as they provide updates on the latest developments with respect to this virus. We are closely monitoring the risks faced by our moving crews and staff whether it be at the office, in public gatherings, in our trucks, or at the customer's residence or worksite.
Remember, movers are open for business! Keep in touch with your clients and remind people on social media that you can help them plan their move now, so they're ready when it's time.
Essential Services
All movers in each province and territory are open for business! To find a certified, professional mover near you, visit CAM's home page to access our mover search function.
Moving Locally? – Moving services have been reduced. You may find that some companies are limiting the number of crews in a truck to 2 men and may have two trucks show up at your home. You may be moving to or from an apartment or condo that restricts access for outside labourers. As the consumer, you will have a responsibility to provide a safe environment for the moving crews to work in. Please make sure you understand how your move will operate, so there are no surprises on move day. Have a look at the consumer tips in our COVID Consumer Information to help you plan.
Moving a longer distance? – Moving services have been reduced. Some province-to-province restrictions remain in place. While professional moving companies are allowed to move freely around the country, you may find yourself having to quarantine and will have to make arrangement for delivery of your household goods. Continue communicating with your mover regarding delivery times as there may be a delay due to demand. Read our moving information on how to plan for this relocation.
Moving into an apartment or office building? Connect with the building manager to confirm their protocols regarding entry into the building and elevator use at this time. Make sure that you communicate clearly with your movers, so as to not cause delays or last minute alterations that could affect your moving price.
Moving to or from the USA? – Moving services have been reduced. On March 21st, Canada and the U.S. closed the border. The border remains closed until at least August 21, 2020. Only essential or urgent travel is being permitted as well as the transit of goods. Cross-border household goods transportation is "business as usual" and household movers are not being restricted. However, be absolutely clear of the paperwork and your permit requirements you will need to make sure you can get across the border. Without proper paperwork, moving companies cannot take the goods across.
With the current widespread outbreak of COVID-19 throughout the US, most US cities have some form of restrictions, so make sure you work with your moving company to see how that affects your move. Also communicate with your mover regarding delivery times as there may be a delay due to demand.
If you are paying in $CAD, the final charge will be based on the current rate of the dollar, which is fluctuating at this time.
On April 14th, the Public Health Agency of Canada (PHAC) issued a news release to update Canada's mandatory requirements for travellers entering Canada. The Order came into force one minute after midnight on April 15, 2020. "Certain persons who cross the border regularly to ensure the continued flow of goods and essential services, or individuals who receive or provide other essential services to Canadians, are exempt from the requirements to quarantine themselves, as long as they do not have symptoms of COVID-19 upon entry in Canada." Furthermore, "persons exempt from mandatory quarantine are still required to wear an appropriate mask or face covering upon entry into Canada and while in transit, and should otherwise respect the intent of the Order to minimize the spread of COVID-19 in Canada." Customers moving across the border into Canada are subject Canada's mandatory 14-day quarantine so they should plan accordingly for the receipt of their household goods. Further to the PHAC announcement that all essential workers crossing the Canada-U.S. border — including truck drivers — must wear a non-medical mask or face covering, Transport Canada is offering additional guidance for vehicle operators who wear face coverings to help minimize the spread of COVID-19.
Moving internationally? – Moving restrictions are in place. All countries have some form of restrictions in place and thus there are unique challenges being experienced with their shipments. If customers have not yet arrived, or are in self isolation, many of our members are offering bonded storage until the customers are able to clear customs and receive their shipments. As well, many of our members are offering to keep the shipments in storage in Canada for the time being because the situation is so fluid and it is unknown what implications can be experienced at the destination. It is critical that customers keep in touch with their movers at this time and understand that countries are responding daily to the degree of virus there is, not only in their own country, but also incoming countries, and thus, there are huge variances on restrictions.
Here's an interesting map that shows the effect COVID-19 currently has on the global relocation industry.
The Canadian Association of Movers (CAM) is a non-profit trade association that does not dispense legal or business advice. Any ideas, concepts, or theories that are discussed should be reviewed by your own legal counsel. Issues related to the coronavirus are evolving rapidly and what may be accurate today could be outdated tomorrow.
News Image