CAM Members have been safely moving with COVID since January 2020.  Here is some valuable moving info for consumers, as well as important links for provincial pandemic updates.
As of January 1, 2022, this website is no longer being updated in real-time.  For the latest Provincial & Territorial COVID news, updates, and travel advisories, visit CAM's

 

Provincial & Territorial

webpage.
Image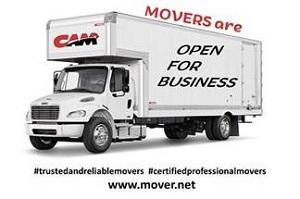 Important Reminders Before You Move
Supply Chain and Labour Challenges
As Canada improves our vaccination rate and weaves in and out of restrictions, the moving industry remains under pressure as in the past moving season due to unprecedented demand, challenges with accessing moving materials (due to supply chain delays) and, like every industry in the world, labour shortages.  You may not be able to book a credible moving company on a specific date. 
*new* Supply chain update: September 26, 2022 - Public Health Agency of Canada - Today the Government of Canada announced the removal of all COVID-19 entry restrictions, as well as testing, quarantine, and isolation requirements for anyone entering Canada, effective October 1, 2022. Read more
CAM recommends that you book your mover early, keep an open dialogue with your mover throughout your relocation, and get any anticipated changes to your costs in writing. 
The Rise of Moving Scams
There are unscrupulous people and companies in Canada that are taking advantage of the challenges within the moving industry and running moving scams on unsuspecting consumers. 
Besides offering super low prices, they are also saying that they can't come and look at your move because they aren't allowed in your home.  That simply isn't true - there are many options to verify how much you are moving - and it is a necessary step that you should demand from your moving company.   The result of accepting their word without verification of what you are moving can be unbearably painful for you - a doubling or tripling your price (because the shipment was much larger than they expected), holding your items hostage until you pay exorbitant fees, massive damage to your items that will not be repaired or replaced, and unfortunately, theft.  We encourage you to do research on the moving company you are choosing by contacting CAM (see below - Search for a Mover) to get a selection of movers in your area that have been vetted and are considered certified professional movers.  You can read more about moving scams in our consumer alert section of the website.

General Advice
CAM and the moving industry are equally concerned about the spread of the coronavirus and it's multiple variants during any step of the move process.  We have to protect our customers, our crews and coworkers, and be especially mindful of the vulnerable sector or our community – the elderly and those with health deficiencies that make them more susceptible to viruses. 
As a consumer, you need to do your part too!  Please provide a safe and healthy situation for our moving crews to work in.
Essential Services
All movers in each province and territory are open for business!  With the real estate boom, demand for movers has never been higher.  Book your mover early and do your research on who you hire as there are companies who are only interested in taking advantage of the pandemic and are scamming unsuspecting customers.  To find a certified, professional mover near you, visit CAM's home page to access our mover search function.  We can help you before you move.  We can't, after you've been scammed.
Moving Locally? – You may find that some companies are limiting the number of crews in a truck to 2 men and may have two trucks show up at your home.  You may be moving to or from an apartment or condo that restricts access or limits elevator use, which could cause your move to last much longer than you expect.  As the consumer, you will have a responsibility to provide a safe environment for the moving crews to work in.  Please make sure you understand how your move will operate, so there are no surprises on move day.   Have a look at the consumer tips in our COVID Consumer Information to help you plan.
Moving a longer distance? – You may find yourself, or your family, having to quarantine as a result of exposure to COVID or one of its variants and may have to make alternative arrangements for the delivery of your household goods.  Continue communicating with your mover regarding delivery.  A diversion from initial plans may result in increased costs and delays.  Read our moving information on how to plan for this relocation.
Moving into an apartment or office building? Connect with the building manager to confirm their protocols regarding entry into the building and elevator use at this time.  Make sure that you communicate clearly with your movers, so as to not cause delays or last minute alterations that could affect your moving price.
Moving to or from the USA? – Please check the requirements for entry below or click here. The U.S. opened to Canadians for land border crossing on November 8, 2021 with vaccine requirements to enter.   Please confirm your entry requirements, based on residency status as well as vaccination status PRIOR to entry, so you are aware of current allowances.  Cross-border household goods transportation is "business as usual" and household movers are not being restricted.  However, be absolutely clear of the paperwork and your permit requirements you will need to make sure you can get across the border.   Without proper paperwork, moving companies cannot take the goods across and any costs resulting from delays will be the consumer's to deal with. 
If you are paying in $CAD, the final charge will be based on the current rate of the dollar, which is fluctuating at this time.
Moving internationally? – Moving restrictions are in place.  All countries have some form of restrictions in place and thus there are unique challenges being experienced with their shipments.  If customers have not yet arrived, or are in self isolation, many of our members are offering bonded storage until the customers are able to clear customs and receive their shipments.  As well, many of our members are offering to keep the shipments in storage in Canada for the time being because the situation is so fluid and it is unknown what implications can be experienced at the destination.
It is critical that customers keep in touch with their movers at this time and understand that countries are responding daily to the degree of virus there is, not only in their own country, but also incoming countries, and thus, there are huge variances on restrictions.  Also it is important to understand that with the shipping backlog, international pricing can not be locked in as drayage, and other destination charges, will fluctuate depending on the port situation where you are moving.  Again, keep in contact with the booking agent you used for updates.
Canada-U.S. border update 
ENTRY INTO USA
U.S. confirms it will accept Canadian travellers with mixed vaccines
Oct 16, 2021 - Canadians with mixed vaccines and U.S. travel plans can breathe a sigh of relief. Following weeks of speculation, the United States confirmed late Friday it will accept mixed vaccines when new rules kick in on Nov. 8 requiring that foreign travellers entering the U.S. be fully vaccinated.   Read more here.
U.S. land border reopening to Canadians Nov. 8th:  What you need to know
Oct 14, 2021 - Starting Nov. 8, the United States will be opening its land and sea border to non-essential fully vaccinated Canadian travellers for the first time since March 2020.  While the Public Health Agency of Canada is still advising against non-essential international travel, the border reopening means that Canadians can drive into the U.S. to visit family, or take a day trip, something Canada has allowed fully vaccinated Americans to do since Aug. 9.  Proof of vaccination will be required.
ENTRY INTO CANADA
Entry into Canada - Vaccination required
Travellers are eligible to enter or return to Canada if they qualify as a fully vaccinated traveller.  Please refer to the Canadian government travel website and know the current requirements prior to going to the border. 
Subject to limited exceptions, all travellers must use ArriveCAN (app or web portal) to submit their travel information. If they are eligible to enter Canada and meet specific criteria, fully vaccinated travellers will not have to quarantine upon arrival in Canada.
Canadians entering Canada
Check if you qualify as a fully vaccinated traveller to Canada
To qualify as a fully vaccinated traveller to Canada, you must:
have received at least 2 doses of a vaccine accepted for travel, a mix of 2 accepted vaccines

or at least 1 dose of the Janssen/Johnson & Johnson vaccine

have received your second dose at least 14 full days before you enter Canada

Example: if your second dose was anytime on Thursday July 1, then Friday July 15 would be the first day that you meet the 14 day condition

have no signs or symptoms of COVID-19
follow pre-entry testing and entry requirements

complete your ArriveCAN submission and have ArriveCAN receipt with letter I, V, or A beside your name
complete arrival test and quarantine if selected
For more information click here.
Non-Canadians entering Canada
It is the traveller's responsibility to demonstrate that they are eligible to enter Canada, including if they qualify for an exemption from mandatory testing or quarantine measures.
Government representatives at the border use the information available at the time of entry to determine what instructions will be provided to a traveller regarding their public health obligations.
Travellers must meet the relevant criteria to be considered an essential service provider under the Emergency Orders. They may be exempt from the mandatory requirements if they meet the relevant criteria and they are entering for the purpose of that function. Travellers who are exempt from quarantine as essential service providers, are workers whose job is included in the Chief Public Health Officer Group Exemption list.
When you enter Canada, a government representative will ask questions and consider multiple factors, including supporting documents and your previous travel history. They may ask for:
your identification and proof of residence
confirmation of employment
confirmation of your normal place of employment
confirmation of your past travel history to establish a pattern of travel frequency
if required, demonstrated immediate nature of work required in Canada and why you are unable to quarantine for 14 days
documentation from your employer as to why the travel is required and how the travel meets one of the exemptions under the Emergency Order
ArriveCAN links
ALL travellers (including essential workers, such as truck drivers) arriving at a Canadian border, by LAND, sea or air, MUST use the "ArriveCAN" app on their smartphone (or online) PRIOR to reaching the border.  Download the ArriveCAN app for free on Google Play and Apple App stores.  The app is also accessible on the web.
A note to drivers crossing the border
Truck drivers who do not comply with the mandate at Canadian ports of entry may be issued significant fines by PHAC or other law enforcement organizations who have the ability to enforce the Quarantine Act. The verbal declaration to a Border Services Officer is only a temporary measure to allow the trucking industry to transition to the electronic ArriveCAN platform.
ArriveCan data can be submitted 72 hours in advance of cross border travel, allowing for greater flexibility in meeting this requirement.
The Government of Canada has also stated its intent to align with the European Union and other nations on the use of digital proof of vaccination to allow greater mobility for international travellers, while ensuring public health remains the top priority. Although the use of ArriveCAN to digitally store and present proof of vaccination has been mentioned by federal officials, no formal announcement has been made yet regarding the use of "vaccine passports" or its potential implications on travellers, such as truck drivers.
Clearing Customs 
CBSA has confirmed that it is business as usual for clearing customs and crossing the border.  Some members are issuing letters to their customers to take to customs with them (just in case) that states: 
"that it is a Federal requirement that an Importer of personal effects MUST arrive in person to CBSA (Canada Border Service Agency) for an interview.  The customer must carry a Passport, along with the other necessary documents, required by the CBSA to clear their goods with customs.  It is also a requirement that prior to this action, the person clearing the goods, should have been in quarantine for 14 days."
Frequently Asked Questions
For detailed Frequently Asked Questions, click here.
The Canadian Association of Movers (CAM) is a non-profit trade association that does not dispense legal or business advice. Any ideas, concepts, or theories that are discussed should be reviewed by your own legal counsel. Issues related to the coronavirus are evolving rapidly and what may be accurate today could be outdated tomorrow.
News Image