Update:  January 19, 2021 (new update)
We offer valuable info for movers and consumers, including important news from the government.  Check back frequently for breaking news.
| | |
| --- | --- |
| | Updates remain on this page for about a week.  Please refer to one of the sections below for recent updates. Thanks to our members who are sending us real-time updates to help keep everyone informed! |
The Canadian Association Movers (CAM) and its 400 members, are committed to everyone's health and safety during this extraordinary time. CAM has been in regular contact with its members since the end of January with updates and allaying concerns about conducting business. Moving and warehouse storage are considered essential services.  All of our members are open for business; however, due to restrictions and capacity issues, may not be running at full staff complement.  We encourage customers to book your mover early!  To find a certified, professional mover near you, visit CAM's home page to access our mover search function.
As Canada copes with the second wave, we recommend that you check with your local health authority for current restrictions since each area has it's own policy.
*update* Canada vaccinated by September!
Jan 15, 2021 - Prime Minister Trudeau confirmed today that there is enough vaccine ordered and scheduled for delivery (from a variety of suppliers) that all Canadians that want to receive the COVID-19 vaccination will be able to do so by September, with the second phase beginning in earnest in April.   CAM has sent a letter to each province's Chief Medical Officer (copied to the corresponding Premier) requesting that our members be considered in the prioritized essential workers' group during phase 2.
update - Jan 19, 2021 - the Prime Minister reiterated today that, despite the vaccine supply delay, all Canadians who want to be vaccinated can be by September.
Need summer labour?  Canada Summer Jobs Program now open - employer deadline is January 29, 2021
There is a massive labour shortage in our country. Have you ever considered hiring a student? The government has expanded the Canada Summer Jobs program to get more folks working during COVID and you can get 75% of their wage reimbursed. Have a look …
Canada Summer Jobs is an initiative of the Youth Employment and Skills Strategy, which aims to provide flexible and holistic services to help all young Canadians develop the skills and gain paid work experience to successfully transition into the labour market.
The Canada Summer Jobs program objectives align with the redesigned Youth Employment and Skills Strategy and are as follows:
provide quality work experiences for youth

respond to national and local priorities to improve access to the labour market for youth who face unique barriers

provide opportunities for youth to develop and improve their skills
The program provides wage subsidies to employers from not-for-profit organizations, the public sector, and private sector organizations with 50 or fewer full-time employees, to create quality summer work experiences for young people aged 15 to 30 years. Funded employers are not restricted to hiring students — all youth aged 15 to 30 years may be eligible participants.
Deadline to apply to be an employer is January 29, 2021. Full information is available here.
Ontario Premier Doug Ford issues "Stay At Home Order" effective January 14th, 12:01 am until at least February 11th
Jan. 12, 2021 - MOVERS ARE STILL ESSENTIAL BUSINESSES AND WILL CONTINUE TO OPERATE AS THEY HAVE BEEN DOING SINCE MARCH!
More details to follow as become available as the rules for this stay-at-home order are still being written and not expected until late January 13th.  Here are the highlights from the announcement today:
any employee that can work from home is to work from home
non-essential businesses must be closed by 8 pm nightly, with the exception of grocery and convenience stores, gas stations, pharmacies and restaurants providing take out/delivery.
limit of 5 for outdoor gatherings
masks are mandatory in all indoor public places and outdoors when they can't keep 2 meters apart
rapid testing will be ramped up and available for warehouse and supply chain businesses should your workers need it
Here's the official news release.
*new* Here's the Ontario Government's summary of information about the measures proposed to come into effect in Ontario or in areas of Ontario between Tuesday, January 12, 2021 and Thursday, January 14, 2021. (For movers, go to slide 22)
*new* Here's Ontario's COVID-19 Screening Tool for Workplaces (Businesses and Organizations) (ver 1, Sept. 25, 2020)
*new* CBSA has confirmed that it is business as usual for clearing customs and crossing the border.  Some members are issuing letters to their customers to take to customs with them (just in case) that states: 
"that it is a Federal requirement that an Importer of personal effects MUST arrive in person to CBSA (Canada Border Service Agency) for an interview.  The customer must carry a Passport, along with the other necessary documents, required by the CBSA to clear their goods with customs.  It is also a requirement that prior to this action, the person clearing the goods, should have been in quarantine for 14 days."
Movers be prepared...
It will be useful for your employees to have a letter on your letterhead (with a supervisor's name and phone number, or the Transport Canada / CAM letter) that indicates that they are traveling for essential work purposes. 
Continue to maintain all standard health protocols that were put in place since COVID hit, including your customer and employee health checks; and provision of masks (and other PPE), hand sanitizer, gloves and wipes.  You are mandated by the Ontario government to screen any workers or essential visitors entering your work environment.  Consider purchasing a temperature gun and record the employee's temperature each day.
If there is anyone who can work from home, please do so.
There are more inspectors from the Ministry of Labour doing unannounced workplace inspections.  Be prepared - non-compliance can result in huge fines.
Canada-U.S. border closure extended to February 21, 2021 
Jan. 12, 2021 - Prime Minister Trudeau announced this morning that the Canada-USA border will remain closed until at least February 21, 2021 "to protect citizens on both sides of the border".  
Québec Curfew beings Saturday, January 9, 2021
Province of Québec announced a full provincial curfew starting on Saturday, January 9, 2021.  People must stay at home between 8 pm to 5 am or risk a fine between $1,000 - $6,000.  There are exemptions for those who are working.  Those transporting goods and those managing supply chains can continue to operate, so movers will still be able to operate.  You will need to show a letter from your employer indicating that you need to be working.
For more information on what you can and can't be doing, click here.  The curfew will be enforced until February 8, 2021.
Province of Québec website curfew link.
Ontario Small Business Support Grant (Dec. 22, 2020)
For those of you in Ontario who may qualify, here is more information on the Ontario Small Business Support Grant announcement yesterday by Premier Doug Ford. 
Eligible small businesses include those that:
Are required to close or significantly restrict services due to the Provincewide Shutdown being imposed across the province effective 12:01 a.m. on December 26
Have fewer than 100 employees at the enterprise level
Have experienced a minimum of 20 per cent revenue decline in April 2020 compared to April 2019.
 For more information: Click here.
British movers still working (Dec. 22, 2020)
On Monday, British Prime Minister Boris Johnson made a statement that any human handled freight services were being shut down. France has closed its borders to all "manned" road freight from the UK with only unaccompanied freight permitted to travel, initially for a period of 48 hours (although that may well get extended over the holiday period).  CAM clarified the situation with the British Association of Removers and the International Association of Movers reports today that BAR has received government confirmation that moving companies can continue their activities despite tighter restrictions in London and South East England.    CAM will, of course, keep our eye on developments with this new viral mutation and report back here should the situation change.
Ontario Lockdown to begin December 26, 2020 12:01 a.m. (Dec. 21, 2020)
Premier Doug Ford announced today that all of Ontario will go into lockdown as of 12:01 a.m. Saturday, December 26, 2020, for a period of 28 days in the south and east, and 14 days in the north.  Essential businesses will remain in operation.  Moving companies are still open for business.
Premier Ford also announced the Ontario Small Business Support Grant, which will provide a minimum of $10,000 and up to $20,000 to help business owners to get through - more info available on that when we get it.
Other highlights:  only essential services allowed to be in full operation.  Curbside operations will be allowed for some retailers and coffee shops/restaurants.  Elementary schools will remain closed until January 11th and High Schools will  be remote until January 25th.
When employers can require COVID-19 vaccinations (Dec. 16, 2020)
As COVID-19 vaccines become available, many employers will have a strong case for requiring employee vaccinations, so long as their vaccination policies have certain exceptions, are job-related and are consistent with business necessity, legal experts say. Read more
*update* Dec 30th - Trucker priority for COVID-19 vaccine unclear (Dec. 16, 2020)
As federal officials near approval of the first COVID-19 vaccine, there are questions about where truck drivers will be on the priority list. Read more  CAM is sending a letter to each provincial health unit explaining what household movers do and requesting that employees of moving companies, specifically drivers and crews who go into homes, can be considered in the second group of vaccinations as they are essential workers and at risk.   
CEBA requirements and deadlines have changed (Dec. 4, 2020)
As of December 4, 2020, CEBA loans for eligible businesses will increase from $40,000 to $60,000.
Applicants who have received the $40,000 CEBA loan may apply for the $20,000 expansion, which provides eligible businesses with an additional $20,000 in financing.
All applicants have until March 31, 2021, to apply for $60,000 CEBA loan or the $20,000 expansion.
If you have already applied for CEBA and have questions, please contact the CEBA Call Centre at 1-888-324-4201. An agent will return your call within 3 business days between Monday and Friday from 10:00 am to 9:00 pm EST. For more info click here.
Important Federal Funding Updates (Nov. 20, 2020)
On Nov 20th, Bill C-9, An Act to Amend the Income Tax Act (Canada Emergency Rent Subsidy and Canada Emergency Wage Subsidy) received Royal Assent, implementing new, targeted support to help hard-hit businesses. These measures will help businesses get through the second wave of the virus so they can protect jobs, continue to serve their communities, and be positioned for a strong recovery.
The measures adopted as part of Bill C-9 are:
The new Canada Emergency Rent Subsidy, which will provide direct and easy-to-access rent and mortgage interest support to tenants and property owners until June 2021 for qualifying organizations affected by COVID-19. The new rent subsidy will support businesses, charities, and non-profits that have suffered a revenue drop by providing support up to a maximum of 65 per cent of eligible expenses until December 19, 2020. Claims can be made retroactively to September 27, 2020.
The new Lockdown Support, which will provide an additional 25 per cent through the Canada Emergency Rent Subsidy for qualifying organizations that are subject to a lockdown and must shut their doors or significantly restrict their activities under a public health order issued under the laws of Canada, a province or territory (including orders made by a municipality or regional health authority under one of those laws). Combined, this will mean that hard-hit businesses subject to a lockdown could receive rent support of up to 90 per cent.
The extension of the Canada Emergency Wage Subsidy until June 2021, which will continue to protect jobs by helping employers keep employees on the payroll and re-hire workers. The wage subsidy will remain at the current rate of up to 65 per cent of eligible wages until December 19, 2020.
CAM COVID Survey - November 2020 results
CAM surveyed members in May to see how everyone was doing, business-wise, during the first two months of the pandemic. The full results from the 90 members who responded can be viewed on our Advice For Movers COVID webpage. We followed up with a second survey six months later to find out how members were getting by after eight months of COVID. Here's what you told us.
Cross-border truck drivers don't need to wait 14 days for doctors visits
October 20, 2020 - trucknews.com is reporting that essential workers like truck drivers are not required to quarantine for 14 days after returning to Canada, even though the rule applies to other people entering the country.  You can read more here.
Employment Insurance (EI) program
As of September 27, you may be eligible for EI if you:
were employed for at least 120 insurable hours in the past 52 weeks
received the CERB, the 52 week period to accumulate insured hours will be extended
stopped working through no fault of your own
have not quit your job voluntarily
are ready, willing and capable of working each day (EI regular benefits)
are temporarily unable to work while you care for someone else or yourself (EI maternity, parental, sickness, compassionate care, and family caregiver benefits)
If you are eligible for EI benefits, you will receive a minimum taxable benefit at a rate of $500 per week, or $300 per week for extended parental benefits.
*update* CEBA has been extended to December 31, 2020
September 24, 2020 - The Canada Emergency Business Account (CEBA) provides interest-free loans of up to $40,000 to small businesses and not-for-profits, to help cover their operating costs during a period where their revenues have been temporarily reduced. This program has been implemented by banks and credit unions in collaboration with Export Development Canada.
Business owners can apply for support from CEBA through their banks and credit unions. Learn more about CEBA
This support is available until December 31, 2020.
Canada Recovery Benefit (CRB)
The CRB provides $500 per week for up to 26 weeks for workers who have stopped working or had their income reduced by at least 50% due to COVID-19, and who are not eligible for Employment Insurance. Please note that applications will open on October 12.
Canada Recovery Sickness Benefit (CRSB)
The CRSB provides $500 per week for up to a maximum of two weeks, for workers who:
are unable to work for at least 50% of the week because they contracted COVID-19
are self-isolated for reasons related to COVID-19
have underlying conditions, are undergoing treatments or have contracted other sicknesses that, in the opinion of a medical practitioner, nurse practitioner, person in authority, government or public health authority, would make them more susceptible to COVID-19.
COVID-19 and Seasonal Allergies
August 31, 2020 - It's that time of the year! Here's a comparison of common COVID-19 and seasonal allergy symptoms.
Image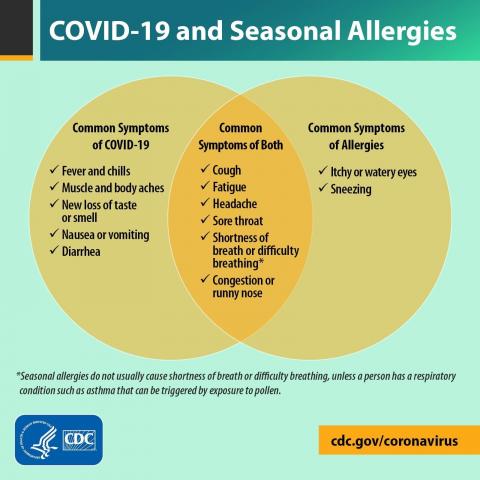 Download COVID Alert today!
August 1, 2020 - Protect yourself. Protect others. Get notified and help limit the spread.  The government of Canada has developed a new nation-wide mobile app to let users know if they may have been exposed to COVID-19.   Available free to all Canadians as a voluntary download, COVID Alert will notify you if someone you were near for at least 15 minutes and less than 2 metres apart in the last 14 days tested positive for COVID-19.  To learn more about the app, click here.
Mandatory Mask Directives - Sample Instructions
July 7, 2020 - Masks are now mandatory in indoor spaces in several areas across the country.  Here is the directive from Ottawa Public Health on what is required by building operators to be done to facilitate their recommendation that masks be worn in any indoor space.  Read here.   For specific community mask orders, please check the provincial re-opening update links below.
++++++++++++++++++++++++++++++++++++++++++++++++++++++++++++++++++++++++++
Stay informed, stay connected:
For the latest and most up-to-date information on the novel coronavirus, visit the Government of Canada's webpage at www.canada.ca/coronavirus or call the coronavirus information line at 1-833-784-4397.
Provincial and Territorial Reopening Updates and Travel Advisories
Canada
Travel Restrictions, Exemptions & Advice
Alberta
British Columbia
Manitoba
New Brunswick
Newfoundland & Labrador
Northwest Territories
Nova Scotia
Nunavut
Ontario
Prince Edward Island
Québec
Re-opening Update (en français)
Travel Restrictions (en français)
Saskatchewan
Yukon
General Advice
CAM and the moving industry are equally concerned about the spread of the coronavirus during any step of the move process, particularly as we are now in the busy season and areas throughout the country are beginning to open up at various degrees of restriction.  We have to protect our customers, our crews and coworkers, and be especially mindful of the vulnerable sector or our community – the elderly and those with health deficiencies that make them more susceptible to viruses. 
CAM continues to closely monitor COVID-19 and the response from all health agencies, as well as the Canadian government, as they provide updates on the latest developments with respect to this virus. We are closely monitoring the risks faced by our moving crews and staff whether it be at the office, in public gatherings, in our trucks, or at the customer's residence or worksite. 
Remember, movers are open for business!  Keep in touch with your clients and remind people on social media that you can help them plan their move now, so they're ready when it's time.
Essential Services
All movers in each province and territory are open for business!  To find a certified, professional mover near you, visit CAM's home page to access our mover search function.
Moving Locally? – Moving services have been reduced. You may find that some companies are limiting the number of crews in a truck to 2 men and may have two trucks show up at your home.  You may be moving to or from an apartment or condo that restricts access for outside labourers.  As the consumer, you will have a responsibility to provide a safe environment for the moving crews to work in.  Please make sure you understand how your move will operate, so there are no surprises on move day.   Have a look at the consumer tips in our COVID Consumer Information to help you plan.
Moving a longer distance? – Moving services have been reduced. Some province-to-province restrictions remain in place.  While professional moving companies are allowed to move freely around the country, you may find yourself having to quarantine and will have to make arrangement for delivery of your household goods.  Continue communicating with your mover regarding delivery times as there may be a delay due to demand.  Read our moving information on how to plan for this relocation.
Moving into an apartment or office building? Connect with the building manager to confirm their protocols regarding entry into the building and elevator use at this time.  Make sure that you communicate clearly with your movers, so as to not cause delays or last minute alterations that could affect your moving price.
Moving to or from the USA? – Moving services have been reduced.  On March 21, 2020, Canada and the U.S. closed the border. The border remains closed until at least February 21, 2021, and likely beyond.  Only essential or urgent travel is being permitted as well as the transit of goods. Cross-border household goods transportation is "business as usual" and household movers are not being restricted.  However, be absolutely clear of the paperwork and your permit requirements you will need to make sure you can get across the border.   Without proper paperwork, moving companies cannot take the goods across. 
With the current widespread outbreak of COVID-19 throughout the US, most US cities have some form of restrictions, so make sure you work with your moving company to see how that affects your move. Also communicate with your mover regarding delivery times as there may be a delay due to demand.
If you are paying in $CAD, the final charge will be based on the current rate of the dollar, which is fluctuating at this time.
On April 14th, the Public Health Agency of Canada (PHAC) issued a news release to update Canada's mandatory requirements for travellers entering Canada. The Order came into force one minute after midnight on April 15, 2020. "Certain persons who cross the border regularly to ensure the continued flow of goods and essential services, or individuals who receive or provide other essential services to Canadians, are exempt from the requirements to quarantine themselves, as long as they do not have symptoms of COVID-19 upon entry in Canada." Furthermore, "persons exempt from mandatory quarantine are still required to wear an appropriate mask or face covering upon entry into Canada and while in transit, and should otherwise respect the intent of the Order to minimize the spread of COVID-19 in Canada." Customers moving across the border into Canada are subject Canada's mandatory 14-day quarantine so they should plan accordingly for the receipt of their household goods. Further to the PHAC announcement that all essential workers crossing the Canada-U.S. border — including truck drivers — must wear a non-medical mask or face covering, Transport Canada is offering additional guidance for vehicle operators who wear face coverings to help minimize the spread of COVID-19.
Moving internationally? – Moving restrictions are in place.  All countries have some form of restrictions in place and thus there are unique challenges being experienced with their shipments.  If customers have not yet arrived, or are in self isolation, many of our members are offering bonded storage until the customers are able to clear customs and receive their shipments.  As well, many of our members are offering to keep the shipments in storage in Canada for the time being because the situation is so fluid and it is unknown what implications can be experienced at the destination. It is critical that customers keep in touch with their movers at this time and understand that countries are responding daily to the degree of virus there is, not only in their own country, but also incoming countries, and thus, there are huge variances on restrictions.
Frequently Asked Questions
For detailed Frequently Asked Questions, click here.
The Canadian Association of Movers (CAM) is a non-profit trade association that does not dispense legal or business advice. Any ideas, concepts, or theories that are discussed should be reviewed by your own legal counsel. Issues related to the coronavirus are evolving rapidly and what may be accurate today could be outdated tomorrow.
News Image