CAM Certified Overseas Mover Program
CAM's Certified Canadian Overseas Mover Program was developed to foster high standards of ethical conduct among CAM members that provide international household goods shipping services to consumers.
To become a Certified Canadian Overseas Mover, a mover is required to commit to CAM's Code of Ethics for International Mover Members.
A Certified Canadian Overseas Mover can be identified by a CAM Overseas logo.
Image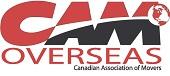 CAM will provide a Certified Overseas Mover with a wall certificate and certification logos in both French and English.
As a guideline for international movers, CAM has compiled a listing of standard terms used by the international moving community.
NOTE: To view the members-only information, you will need a user name and password. These can be obtained from CAM at admin[at]mover.net.