CAM can help you to find a reputable mover that you can trust, or validate a mover that you are thinking about using. CAM's Certified Canadian Movers will deliver moving services that are fair in practice and cost, professional, safe and timely. Contact your local Better Business Bureau to obtain a reliability report before hiring.
Image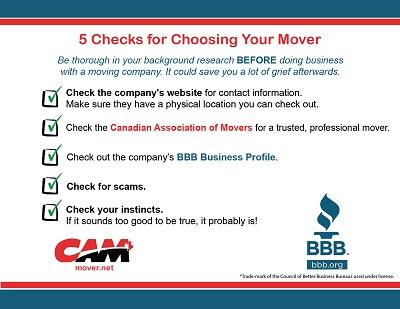 Search for a Mover
You can find a professional mover near you by entering your start location on our search page and then contact the ones you are interested in hearing from by completing the estimate request form. The movers that you selected will contact you.
Or you can search CAM's member directory for local, long-distance or international movers, affiliates, van lines or suppliers.
CAM's Referral Service
We also offer a referral service. You can simply send CAM a few details about your move and we will contact a few movers near you and ask them to contact you.
Moving Internationally?
Moving internationally? You can find a lot of information to help you prepare for an international move in our International Resource Library.